Train Your Brain For Wealth & Prosperity!
Hypnosis CD to Tune Your Mind into Money, Wealth and Well being!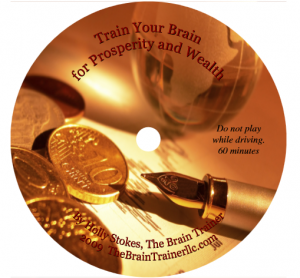 What do you think of when you think of money? Do you go into a stress response or think 'not enough?'
From our past experiences with money, the mind creates associations about money and they run in the background of the mind.
As a child, my money story was that money caused conflict because I watched my parents argue and fight about money. So as I got older, consciously, I knew wanted to make money, but I felt stuck. It would leave as quickly as it came in.
And I continued to feel stuck with money, until I learned about the layers of the mind and understanding what my unconscious was doing around money.
So then, I developed this very CD to change my own mind! And it worked for me – it can work for you too.
My unconscious mind thought money meant conflict, stress and problems. And so it was unconsciously protecting me from more stress, more conflict and more problems.
Funny huh? My mind was protecting me!
The patterns your mind carries around money might be different from the ones I had, but the principles of updating the mind to new levels and heights are the same.
You'll find a renewed sense of relief, you'll find expanded feelings of possibility, and ease the stress and worry around where you are.
Plus your mind will begin to look for and recognize the REAL answers that will make the difference!
Tap into a healthy mindset for money, tune your unconscious mind into wealth and prosperity and embrace abundant living!
This Hypnosis Meditation CD helps your mind learn new patterns around money. The first part of this hypnosis CD looks at your money habits and patterns and what to do about them. It helps your mind reduce the stress response around money, allowing you to be more at ease where-ever you are on your money journey.
Plus, it helps tune your mind into recognizing new ways of thinking and feeling around money, allowing your mind to clear past associations and create greater harmony and ease in your life around your finances.
This is followed by visualizations designed to update your unconscious mind with the positive focus you need for engaging your mind for prosperity and creating your prosperous and abundant future.
Repeat the audio several times as your mind has been practicing the old patterns for many years. 40 minutes.  
"Money's getting a lot better. I don't feel a need to go out and spend like I did before. I listen as soon as I get home and it relieves the stress from work.  Things are turning around after listening about 30 days."

–Chalon Ortiz, Salt Lake City, UT
As you tune your mind into the positive focus – you get your brain onboard and it starts working for you – rather than against you.
Take the stress off of money and tune your mind and attention to attracting and receiving wealth and abundance. As you notice and recognize abundance – you naturally create more of it.
Order the CD here:
Only $17.95